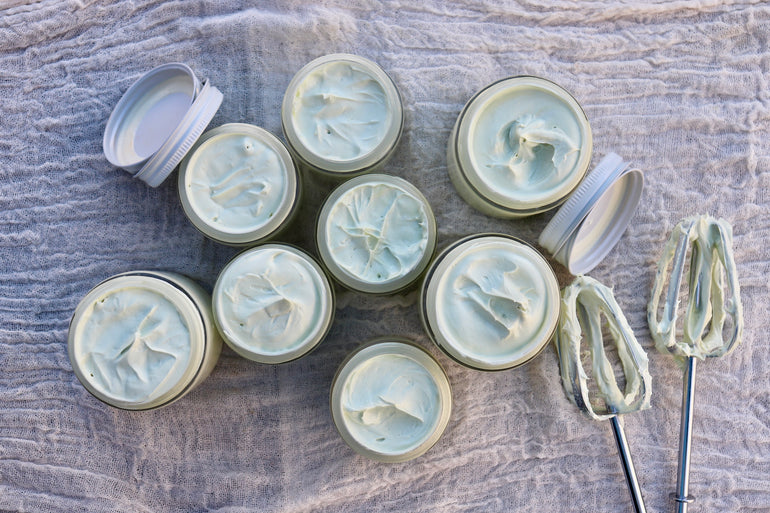 Description
With the kind of love received from our customers on custom body butter, we are happy to say that it's finally been added to the shop. 
Request your favorite blend (from our existing soap blends/essential oils )and we will make them for YOU. We only make our custom scents in 8 oz as it is not regular. 
Examples - highly requested were our sundowner scent and peacekeeper scent from our soap collection. So we take that essential oil blend and whip it into your custom body butter. Simple right? 
Ingredients
shea butter, hemp seed oil, kaolin clay, vitamin E, desired essential oils*

* - available combinations from our soaps
Ingredient benefits
Shea butter - emollient, softens skin, anti-inflammatory, conditioning, treats acne, healing

Hemp seed oil - perfect for most skin types, non-comedogenic, helps balance oil production

Kaolin clay - absorbs excess oil from skin, prevents breakouts, helps restore skin

Vitamin E - antioxidant, cellular restoration from sun damage, moisturizing, and healing
How to use
Scoop a small amount of body butter with your fingertips and dab it wherever desired. Now massage the body butter to make sure it gets fully absorbed. We recommend lathering it up right after a shower, onto damped skin to get the best nourishing results. You don't need a lot of product and you will soon learn this. And don't forget, dabbing and massaging is the best way to go for our BB :)
Shelf life
6-8 months if kept in ideal conditions
Packaging
Glass jar, Metal lid, Seed paper label.
End of life
Jar - Reuse the glass jar to store any mini items or grow some plants. Or you can recycle both the jar and lid. Or you can return your empties for store credit.

Label - When the paper is planted in a pot of soil, the seeds grow and the paper composts away into beautiful wildflowers. How to plant your label - Place your label under a thin layer of soil. Dab it a bit and water it. Keep it moist for germination. Now watch it grow!