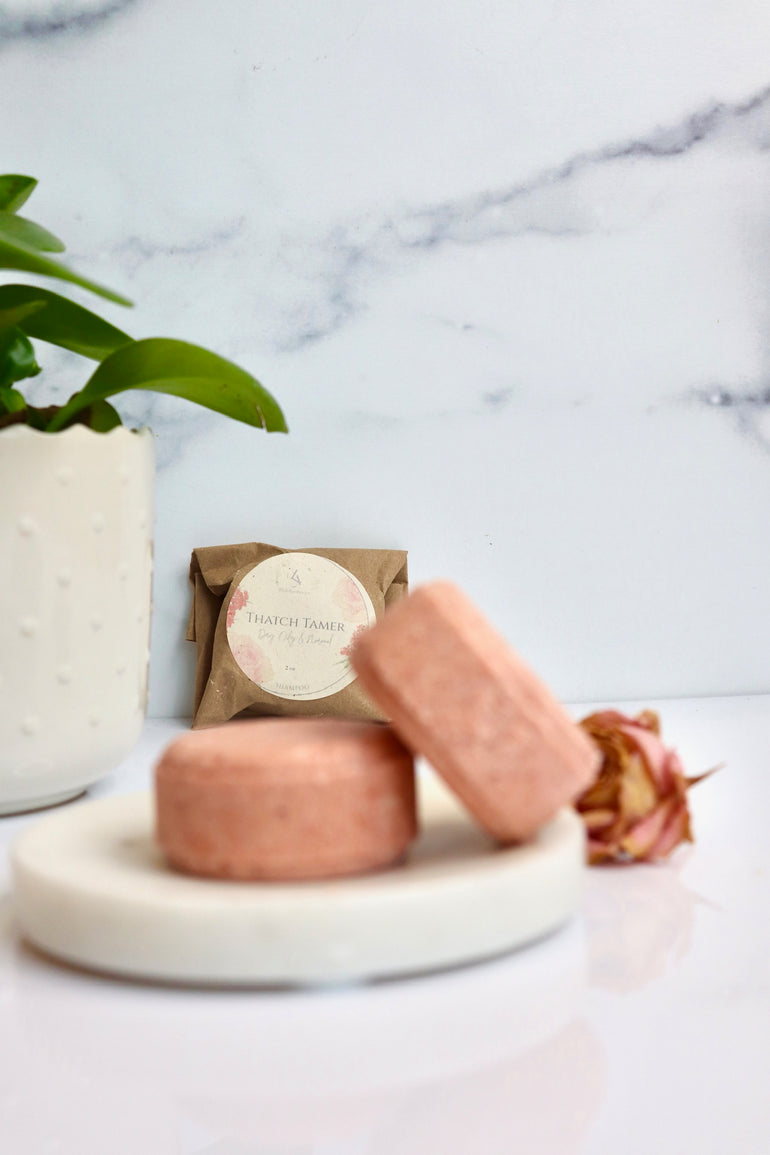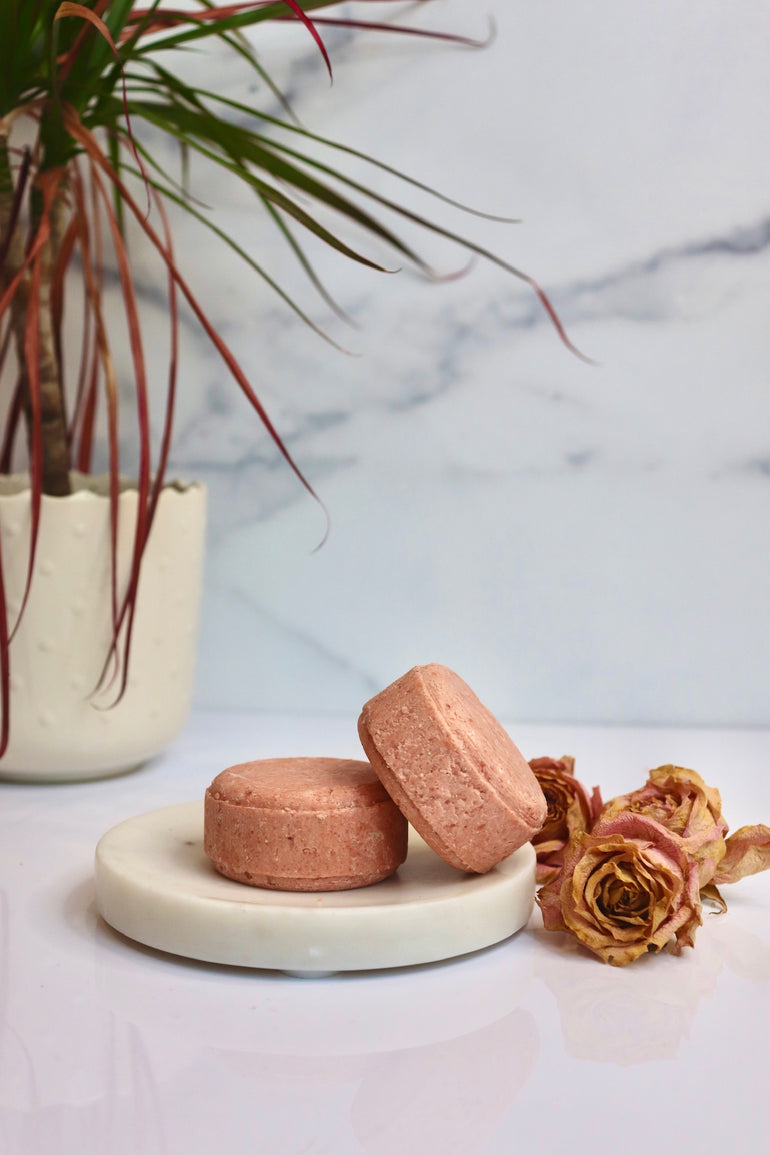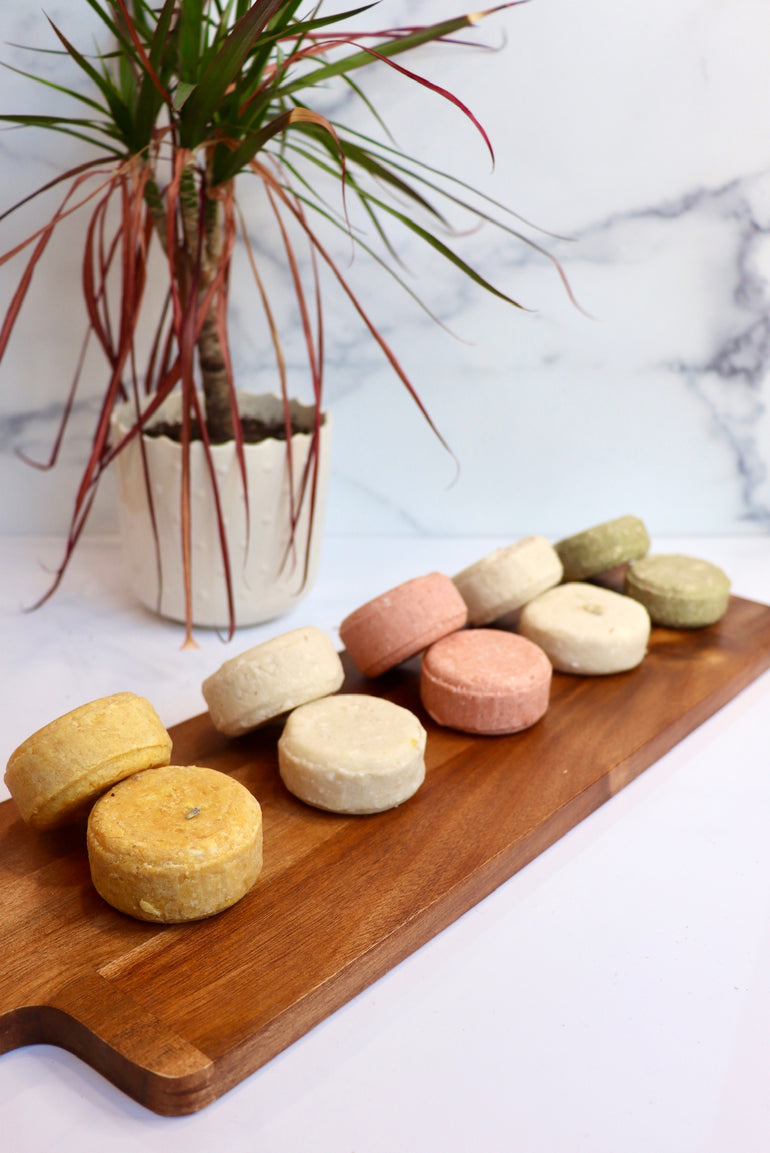 Thatch-Tamer (volumizing, anti-frizz)
Description
Are you looking for some volume? And want to keep that frizz down? Look no further and add to your cart this volumizing shampoo bar. Thatch Tamer has nourishing and conditioning properties in a shampoo that your hair needs. Broccoli seed oil is here to soothe your hair (an alternative to silicones), and BTMS-50 is combined with cetyl alcohol for its powerful anti-static and conditioning properties. In addition, rice protein adds volume and shine to the hair. With all these refreshing ingredients, you just signed up to up your scalp health. Now, why did we name our bar "thatch tamer"? We meant to give YOU thick, voluminous(thatch) hair while taming down that frizz if any. See what we did there?

Our shampoo bar lasts a long time (35-40 washes). And is also free of sulfates, parabens, silicones, phthalates, DEA, and palm oil. Yes, of course, it is vegan. Oh, wait, also plastic-free.
Ingredients
Sodium Cocoyl Isethionate, Cocamidropopyl Betaine, Broccoli Seed Oil, Cetyl Alcohol, Rice protein, BTMS - 50, Panthenol, Geranium Essential Oil, French Pink Clay, Vitamin E, Liquid Germall Plus
Ingredient benefits
sodium cocoyl isethionate, cocamidropopyl betaine - cleansing, gentle surfactacts, PH balanced, derived from coconut oil, helps to lift dirt and oil from skin

broccoli seed oil - emollient, omega 9 fatty acid, extremely nourishing

pink clay - absorbs impurities, removes grime and excess oil

cetyl alcohol - hydrating, softening, acts as thickener

rice protein - voluminizing agent, strengthening, shine-enhancing

btms 50 - conditioning, emulsifying wax, mild

panthenol - strengthing, retains moisture, helps with textured damaged hair

liquid germall plus - eco-preservative
How to use
Wet the bar and your hair thoroughly. There are two ways to shampoo - First, lather the shampoo bar in your hands before applying. Start at the base of the scalp and work in sections. Second, rub the bar on your scalp directly (not more than once in one section). Rinse away.

Tip - after applying shampoo to your hair, I recommend you use a scalp massager. Gently press the tips to your scalp and massage in small, circular motions. This will boost circulation and overall scalp health.
Shelf life
18 months if kept in ideal conditions
Packaging
Tree-free, unbleached sugar cane labels. Brown paper.
End of life
The bar gets used up.
Label along with adhesive are compostable.
Brown paper is curbside recyclable.
Care
Keep the bar on a draining dish. Doing so will help prevent the bar from getting soft and gooey. Plus, a dry bar in between the washes will go longer too.
Thatch-Tamer (volumizing, anti-frizz)
Game Changing
I only use Zilch shampoo bars now!
Volume Volume Volume
This bar gives me all the volume but keeps the frizz at bay. Love it!