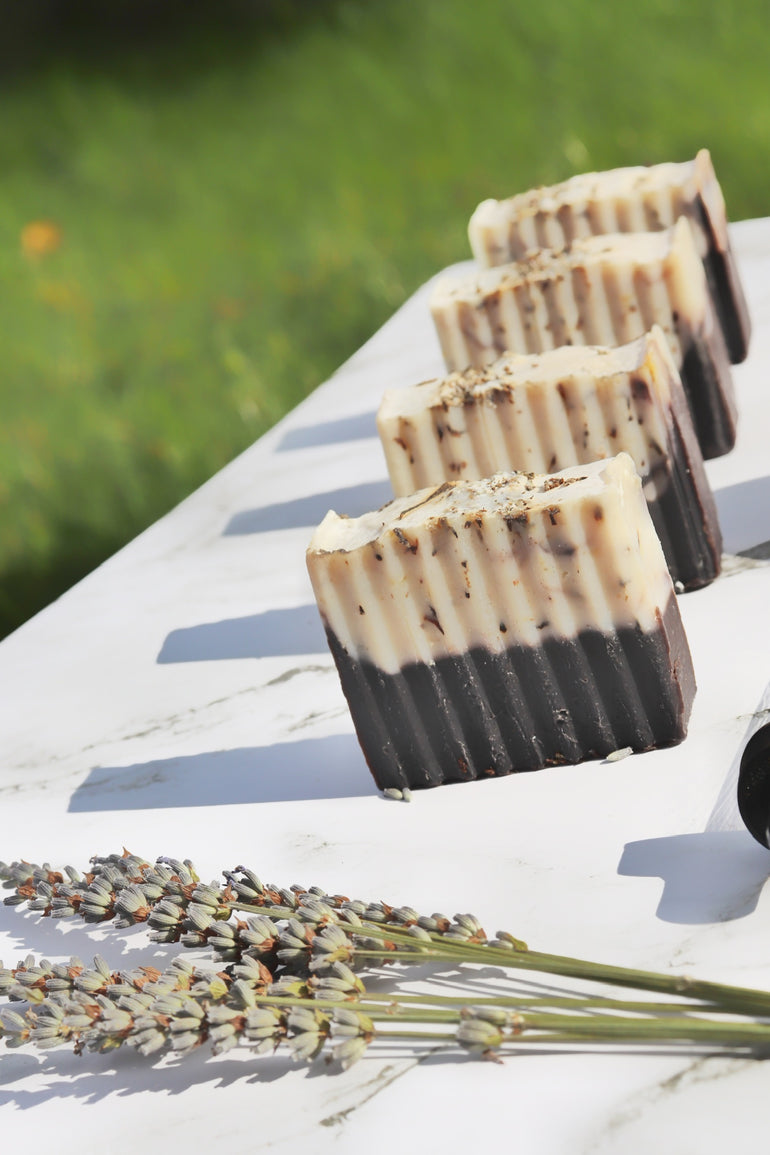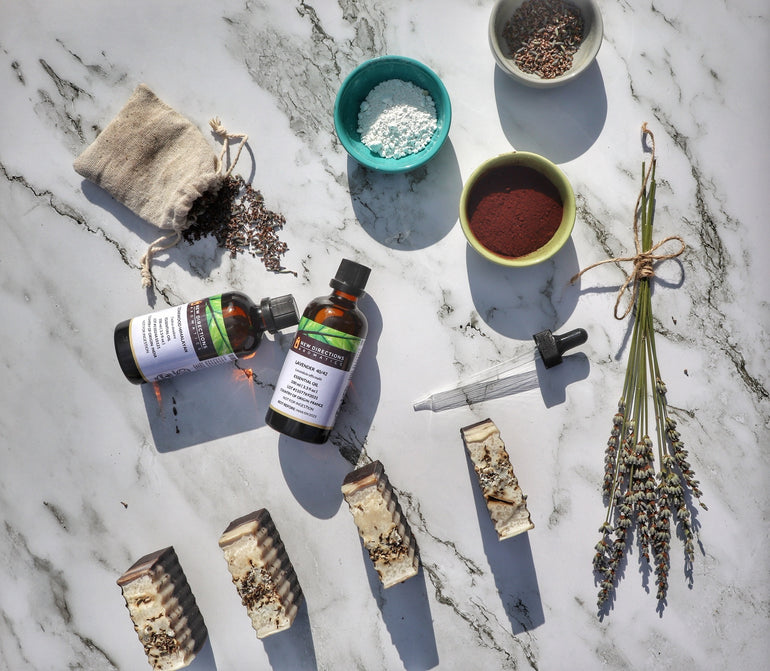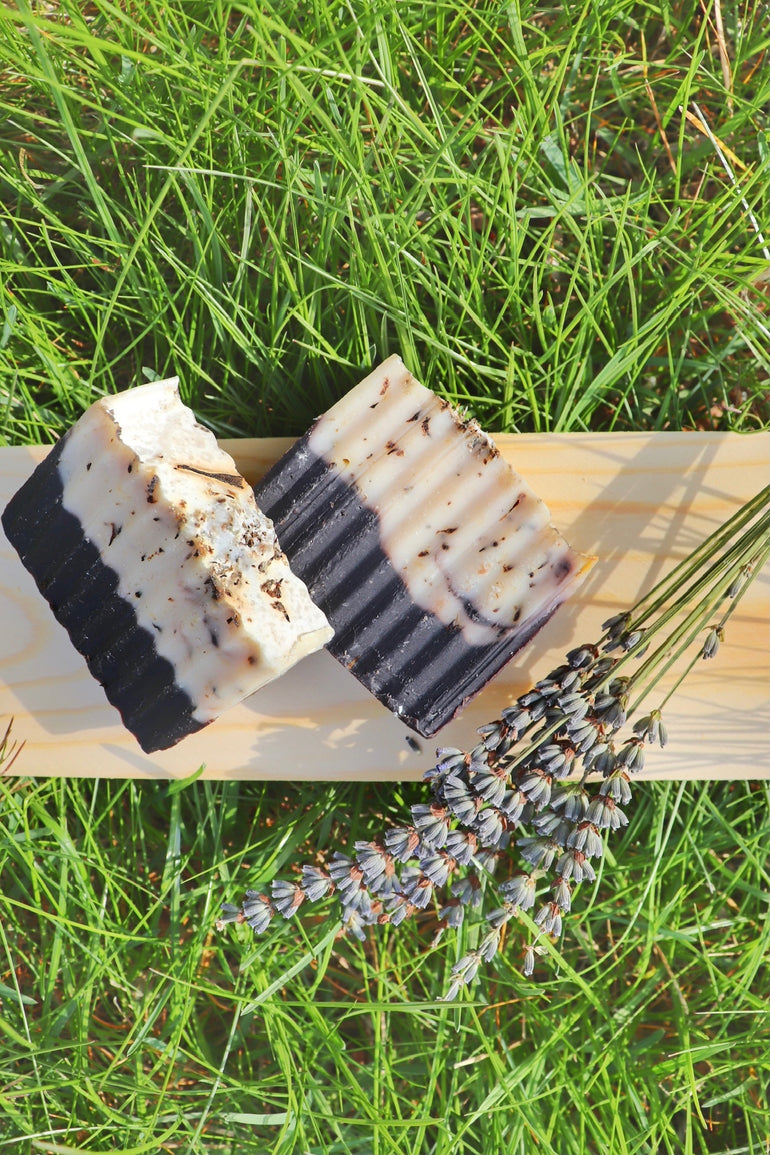 Description
All those lavender fans!!! Are you here? The benefits of this superstar flower are numerous. It has properties that relax, soothe and heal the skin. The soft floral presentation of lavender is entwined with woody cedarwood and earthy clary sage. A picturesque trio wrapped in pure and delicate alkanet root powder. Idyllic and dainty. The naturally anti-inflammatory and antiseptic properties will help reduce skin inflammation. Lavender buds are cracked and blended with the soap that, leaves the bar always fragrant. The buds offer mild exfoliation too. Are you ready to try this aromatherapy that is curated in soap form? 
Ingredients
100% Saponified Olive Oil, Coconut Oil, Castor Oil, Cocoa Butter, Shea Butter, Avocado Oil, Kaolin Clay, Alkanet Root Powder, Essential Oil blend of Lavender & Cedarwood and Lavender Buds
Ingredient benefits
olive oil - moisturizing, conditioning, antioxidant, and antibacterial effects, prevents premature signs of aging

coconut oil - moisturizing, anti-inflammatory, healing, antimicrobial, gentle on sensitive skin

shea butter - emollient, softens skin, anti-inflammatory, conditioning, treats acne, healing

avocado oil - high vitamin E, mositurizing, nourishing, promotes collagen production, healing

cocoa butter - antioxidant powerhouse, restores moisture, prevents aging, minimizes marks on the body

kaolin clay - absorbs excess oil from skin, prevents breakouts, helps restore skin

Alkanet root powder - naturally soothes irritated sensitive skin

lavender buds - the flowers contain vitamins, antioxidants, cleansing properties
How to use
Wet it. Rub it. Rinse it.
Shelf life
24 months if kept in ideal conditions
End of life
The bar gets used up.

Label -
When you plant the paper in a pot of soil, the seeds grow, and the paper composts into beautiful wildflowers.
How to plant your label - Place your label under a thin layer of soil. Dab it a bit and water it. Keep it moist for germination. Now watch it grow!
Care
Keep the bar on a draining dish. Doing so will help prevent the bar from getting soft and gooey. Plus, a dry bar in between the washes will go longer too.
Their scents are just right!!
So I'm a girl who likes lighter scents and sometimes when I see something that has ingredients like Cedarwood, I wonder if I'll like it or not. I decided to take a chance and ordered a multi-pack of soaps. One of them was Mood Crafter. I used it this morning and was delighted at the lovely aroma. One thing I appreciate about ZA is that their scents are just right. They are not on the heavy side. So if you are unsure about purchasing a soap that has an oil that is on the heavier or spicier side, don't be afraid to try one of theirs. They mix them so that the heavy oils don't overpower the lighter ones (Mood Crafter also has lavender, bergamot and clary sage). Loving this soap and the wonderful mood it produces.