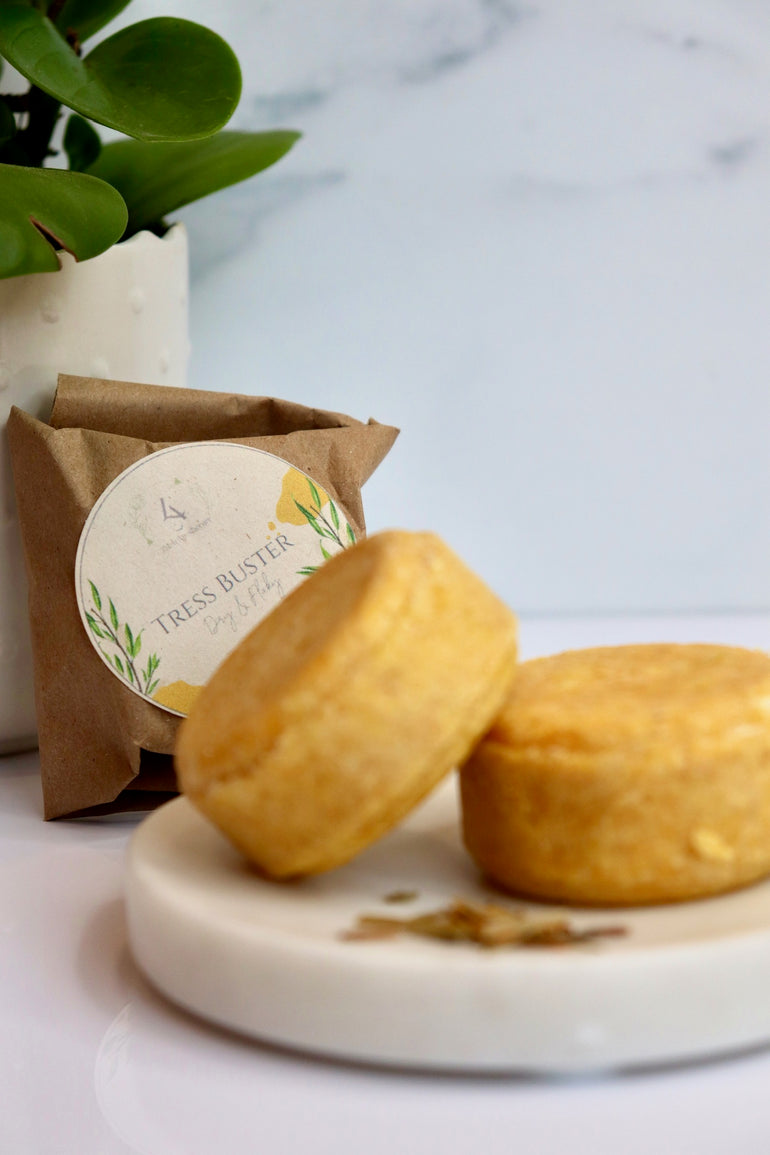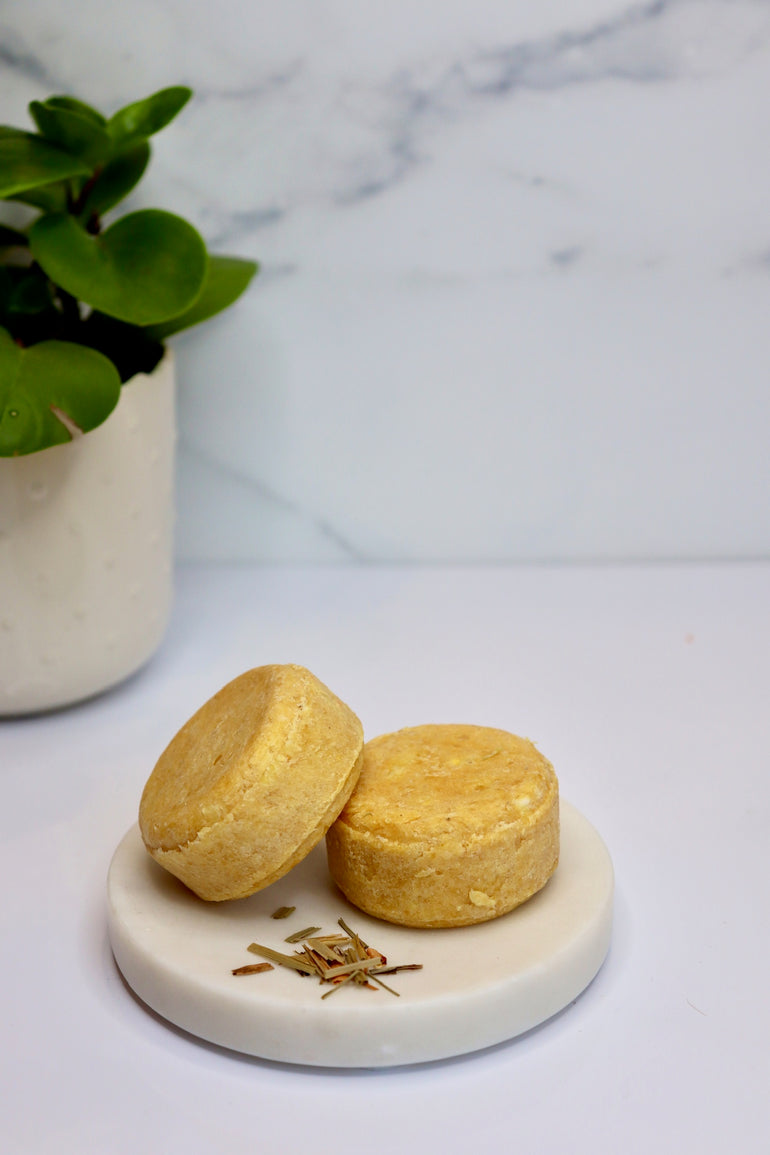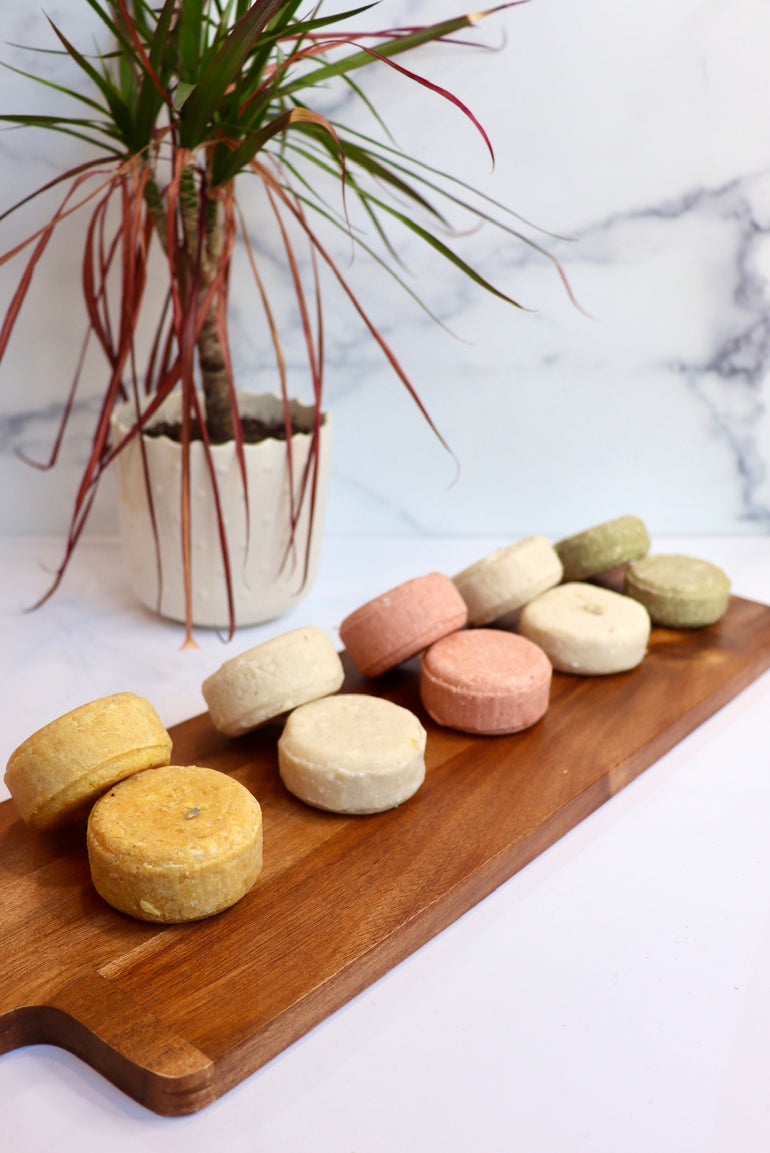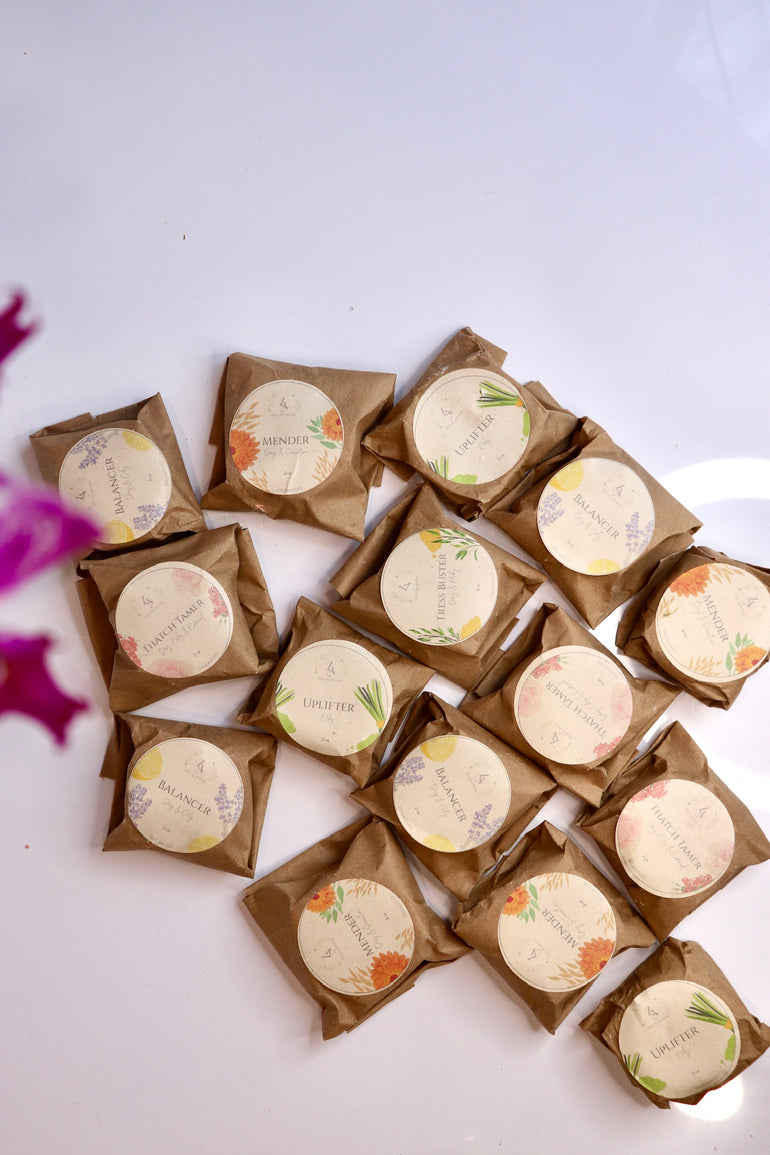 Tress Buster (dry, flaky, anti-dandruff)
Description
Tired of those stubborn dandruff flakes? Troublesome dry, flaky hair? You're at the right place to pick this guy up. Besides soothing an itchy scalp, reducing dandruff and flaking, and preventing excess oil production, tea tree essential oil in this shampoo bar improves blood flow and allows nutrients to reach hair follicles. Adding to all the benefits is this super root, Turmeric, that revitalizes the scalp, enabling healthy hair growth. For softening of the hair and a refreshing scent, there is sweet almond oil and lemongrass essential oil. So, stop stressing over your dull and flaky scalp and get your Tress-buster. See what we did there?

Our shampoo bar lasts a long time (35-40 washes). And is also free of sulfates, parabens, silicones, phthalates, DEA, and palm oil. Yes, of course, it is vegan. Oh, wait, also plastic-free.
Ingredients
Sodium Cocoyl Isethionate, Cocamidropopyl Betaine, Sweet Almond Oil, BTMS - 25, Cetyl Alcohol, Rice Protein, Panthenol, Tea Tree Essential Oil, Lemongrass Essential Oil, Turmeric Powder, Liquid Germall Plus
Ingredient benefits
sodium cocoyl isethionate, cocamidropopyl betaine - cleansing, gentle surfactacts, PH balanced, derived from coconut oil, helps to lift dirt and oil from skin

sweet almond oil - treats dry skin, improves complexion and skin tone, emollient, balance the absorption of moisture

BTMS 25 (Behentrimonium Methosulfate) - conditioning agent, *don't mistake this with sulphates. it is not.

cetyl alcohol - hydrating, softening, acts as thickener

rice protein - voluminizing agent, strengthening, shine-enhancing

panthenol - strengthening, retains moisture, helps with textured damaged hair

turmeric - brings out natural glow, antioxidant, anti-inflammatory, decreases UV damage, boost collagen production, cooling properties

liquid germall plus - eco-preservative
How to use
Wet the bar and your hair thoroughly. There are two ways to shampoo - First, lather the shampoo bar in your hands before applying. Start at the base of the scalp and work in sections. Second, rub the bar on your scalp directly (not more than once in one section). Rinse away.

Tip - after applying shampoo to your hair, I recommend you use a scalp massager. Gently press the tips to your scalp and massage in small, circular motions. This will boost circulation and overall scalp health.
Shelf life
18 months if kept in ideal conditions
Packaging
Tree-free, unbleached sugar cane labels. Brown paper.
End of life
The bar gets used up.
Label along with adhesive are compostable.
Brown paper is curbside recyclable.
Care
Keep the bar on a draining dish. Doing so will help prevent the bar from getting soft and gooey. Plus, a dry bar in between the washes will go longer too.
Tress Buster (dry, flaky, anti-dandruff)
Shampoo bar did wonders :)
I got the Turmeric Shampoo Bar about a month ago and its done wonders. I have a very dry scalp and hair, after 2 washes I noticed a difference in stretch and producing more natural oils in my hair! Just got the rose shampoo bar today for volume and frizz. Cant wait to try!