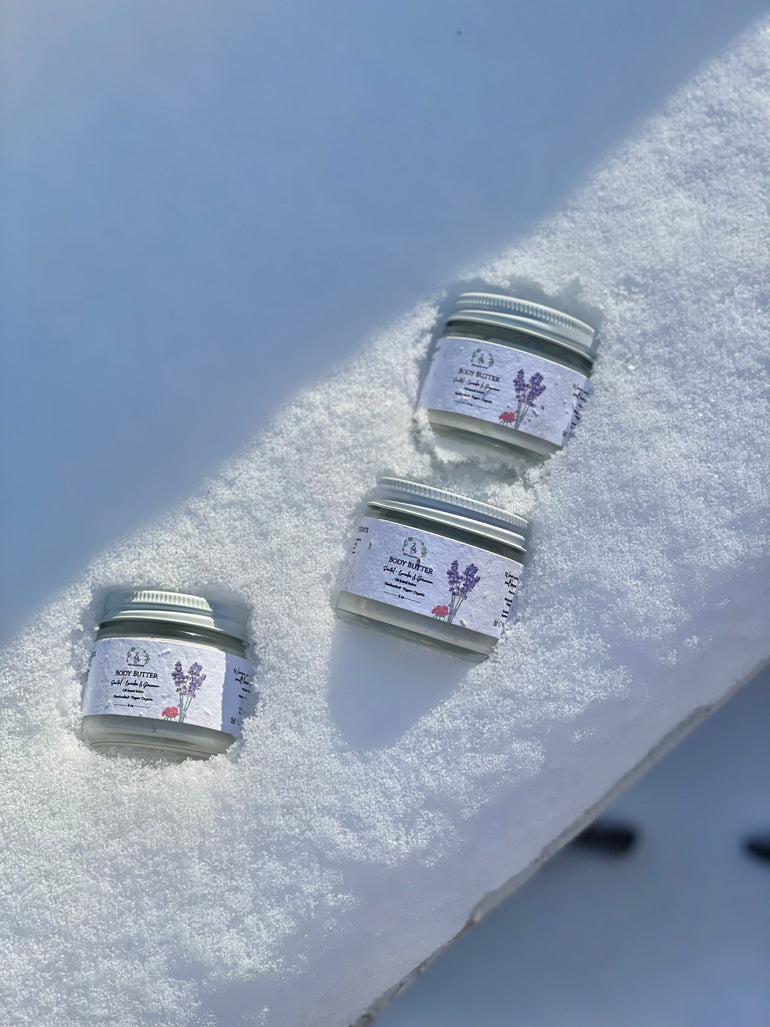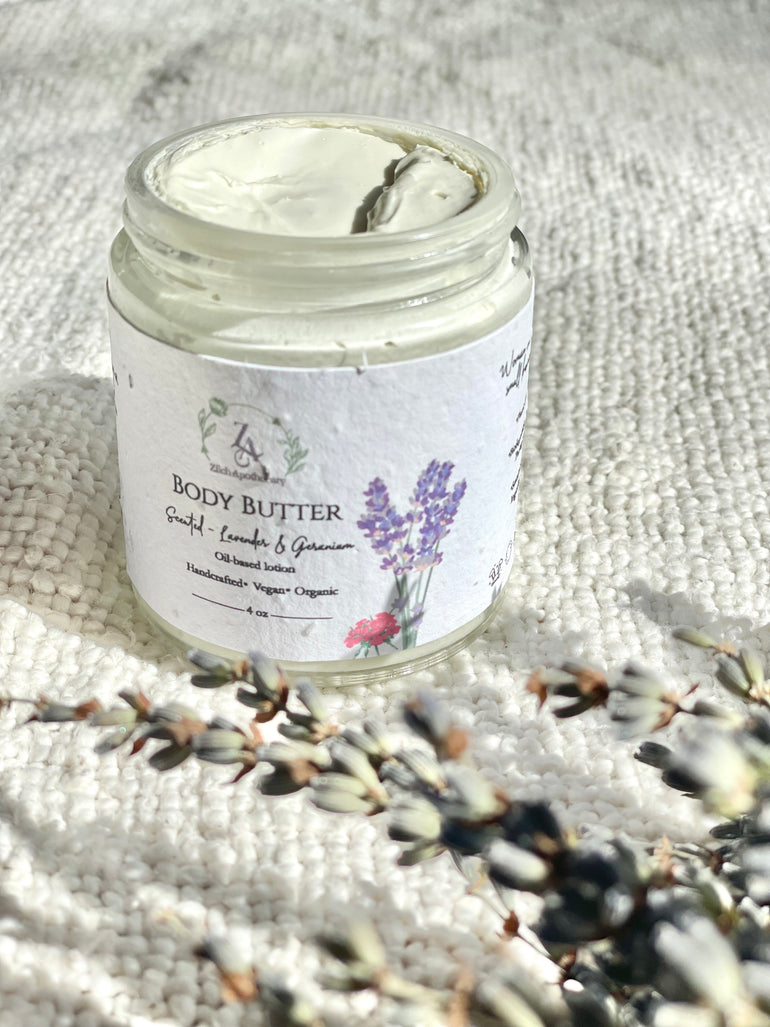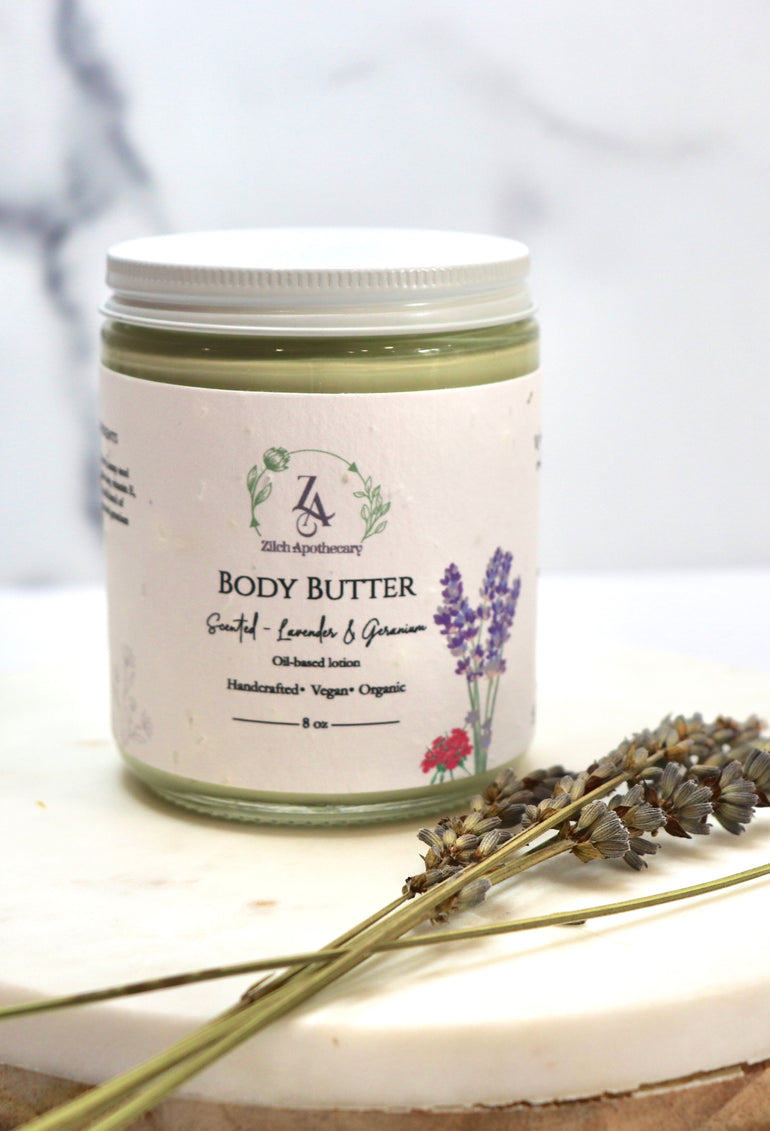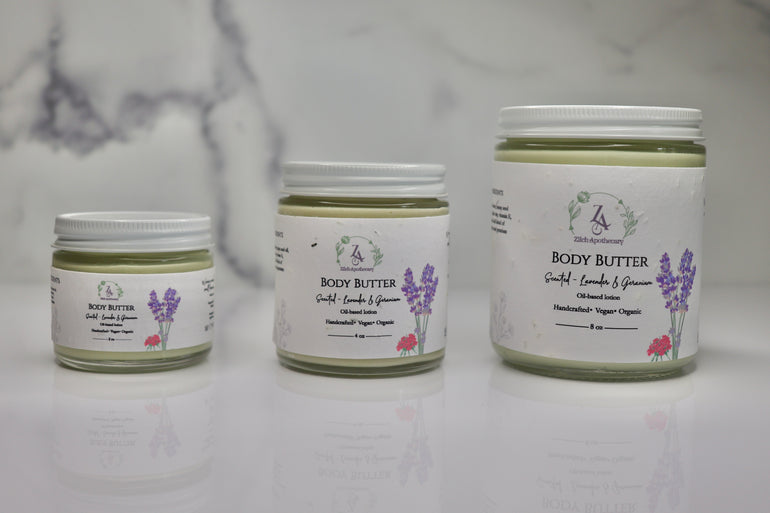 Body Butter (Lavender Geranium)
Description
Our lavender geranium body butter is a dreamy scent that transports you to places. Super hydrating formula, made with just four ingredients that nourish, and replenish your skin. We do not add any stabilizers or additives to our BB. This is an oil-based, potent butter for your dry skin. That means, it leaves you with a round-the-clock moisturizing effect. You'll notice how it melts right onto the surface of your skin at the first touch. Super creamy. 
This is a plastic-free alternative to plastic packaged lotion. Check out our "how to use" section to fully understand. Great for massages and for application after shaving. We recommend applying it right after the shower to maximize the moisturizing benefits. Unlike other body butter on the market, ours is a non-comedogenic one. That means the oils used in our BB are non-clogging. 

Why wait? Grab this creamy whipped butter to lather on...
Ingredients
shea butter, hemp seed oil, kaolin clay, vitamin E, essential oil blend of lavender and geranium
Ingredient benefits
Shea butter - emollient, softens skin, anti-inflammatory, conditioning, treats acne, healing

Hemp seed oil - perfect for most skin types, non-comedogenic, helps balance oil production

Kaolin clay - absorbs excess oil from skin, prevents breakouts, helps restore skin

Vitamin E - antioxidant, cellular restoration from sun damage, moisturizing, and healing
How to use
Scoop a small amount of body butter with your fingertips and dab it wherever desired. Now massage the body butter to make sure it gets fully absorbed. We recommend lathering it up right after a shower, onto damped skin to get the best nourishing results. You don't need a lot of product and you will soon learn this. And don't forget, dabbing and massaging is the best way to go for our BB :)
Shelf life
6-8 months if kept in ideal conditions
Packaging
Glass jar, Metal lid, Seed paper label.
End of life
Jar - Reuse the glass jar to store any mini items or grow some plants. Or you can recycle both the jar and lid. Or you can return your empties for store credit.

Label -
When the paper is planted in a pot of soil, the seeds grow and the paper composts away into beautiful wildflowers. How to plant your label - Place your label under a thin layer of soil. Dab it a bit and water it. Keep it moist for germination. Now watch it grow!
Care
Please note: This product is sensitive to heat. Initially, we seasonally made our BB for the winter/spring. Due to high customer demand, we are offering this product year-round now. As we make our BB with natural ingredients, there is a possibility it will melt in transit or in warm climates/households without AC. Store it in a cool, dry place away from light to maintain quality. If you live in a warmer state, order at your own risk during summer. If it melts in transit, you can revive it. Email us for instructions or find our "melted?" highlight on our Instagram page @zilch.apothecary
Body Butter (Lavender Geranium)
An Amazing Find
I found the Body Butter at a local Farmer's Market, gave it a try and want to use nothing else for a hand cream ever! It is the best, so creamy and soothing. Better yet, it is made locally by a family company without chemical ingredients. Can't recommend this product highly enough!
I will order again.!_
I bought the lavender and geranium body butter from the Earth Festival. I absolutely love it. I will order again.!_
I just got a spa treatment.
The lavender geranium body body has become my favorite part of my night time routine. The smell is soothing and my skin is left feeling like I just got a spa treatment. The smaller jars are also a great gift for friends! Overall I have enjoyed every Zilch product I have tried and cannot wait to try more.
This body butter is seriously AMAZING!
This body butter is seriously AMAZING! I love how moisturized my skin is after I use it. I have also given it as a gift and everyone loves it!