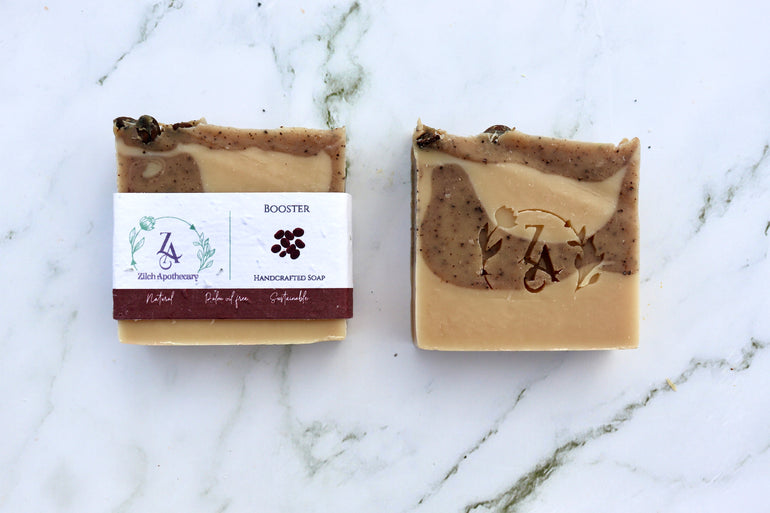 Description
Are you looking for an exfoliating soap bar? Booster is just what you need. We have here repurposed organic coffee grounds that naturally have a way to remove dirt and dead cells. Organic coffee grounds and coffee base are nutrient-rich and a great natural way to promote healthy skin. Made with 100% plant-based ingredients and a blend of grapefruit and lemon essential oils, this soap is designed to give you a lift. For those of you who are scared that you might smell like coffee all day? No, you won't as our body absorbs everything we feed it. Plus the coffee grounds are dried completely before using in the soap and this makes sure that you don't smell coffee-y! 
This soap bar is creamy, bubbly, and cleansing. Use this bar in between washes for the exfoliation effect. Get them anti-oxidants your way..
Ingredients
100% Saponified Olive Oil, Coconut Oil, Shea Butter, Cocoa Butter, Castor Oil, Coffee Grounds, Essential Oil Blend of Grapefruit & Lemon
Ingredient benefits
olive oil - moisturizing, conditioning, antioxidant and antibacterial effects, prevents premature signs of aging

coconut oil - moisturizing, anti-inflammatory, healing, antimicrobial, gentle on sensitive skin

shea butter - emollient, softens skin, anti-inflammatory, conditioning, treats acne, healing

cocoa butter - antioxidant powerhouse, restores moisture, prevents aging, minimizes marks on the body

castor oil - fights acne, contains antioxidants, promotes overall skin health, moisturizing

coffee grounds - antioxidant properties, exfoliator, increases blood flow, boosts collagen levels, removes dirt and dead skin cells
How to use
Wet it. Rub it. Rinse it.
Shelf life
24 months if kept in ideal conditions
End of life
The bar gets used up.

Label -
When you plant the paper in a pot of soil, the seeds grow, and the paper composts into beautiful wildflowers.
How to plant your label - Place your label under a thin layer of soil. Dab it a bit and water it. Keep it moist for germination. Now watch it grow!
Care
Keep the bar on a draining dish. Doing so will help prevent the bar from getting soft and gooey. Plus, a dry bar in between the washes will go longer too.