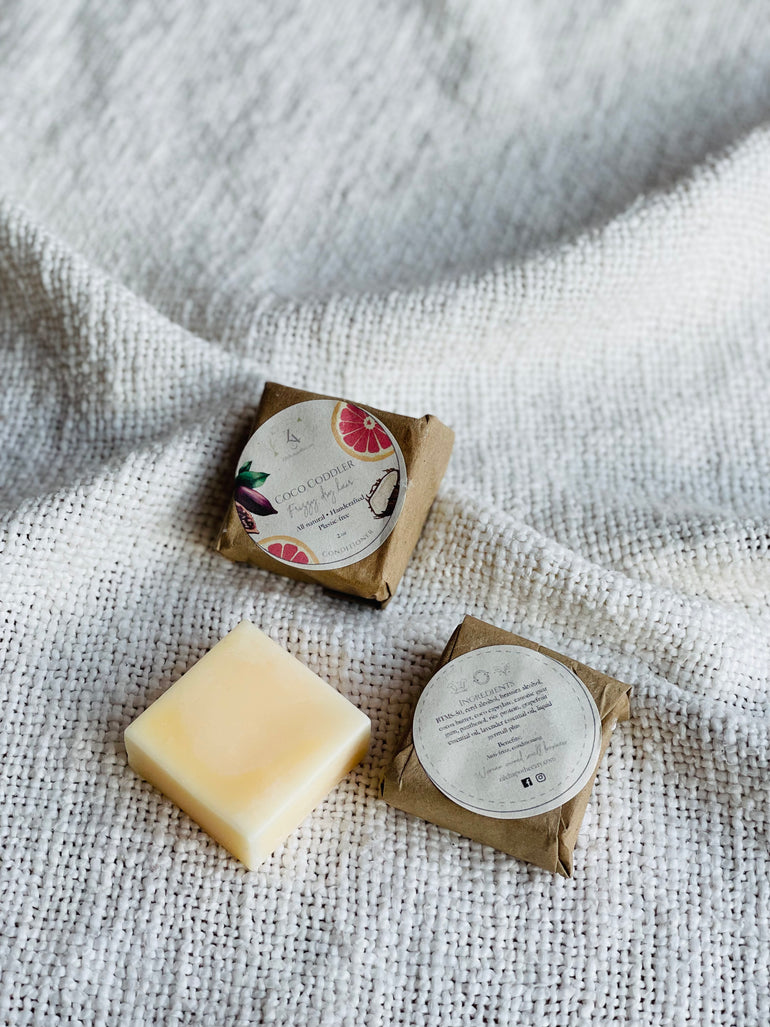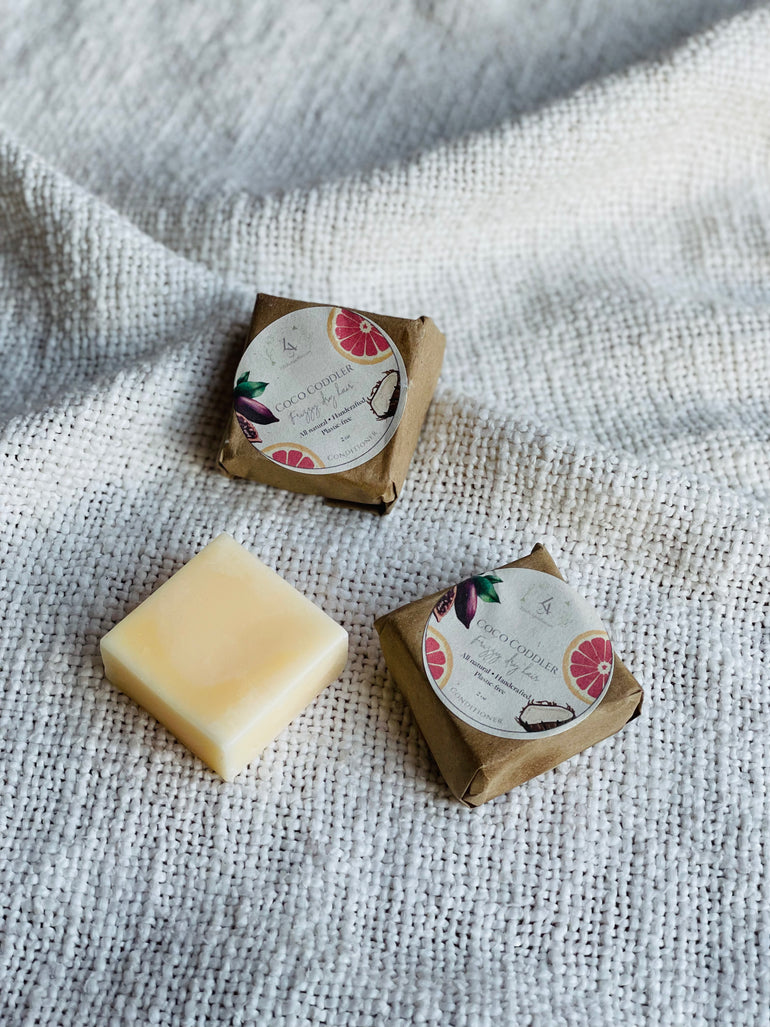 Description
Any guesses on why we named this bar such? Let me share that with you. This conditioner bar is packed with coconut and cocoa butter, which will pamper your hair extensively. Frizzy hair? Check. Dry hair? Check. The purpose of this bar is to help you with dry and curly hair. The conditioning agents paired with extra cocoa butter make it soft and easy to comb. Brassica alcohol has the ability to reduce breakage and improve hair combability. Our conditioner bars will help moisturize and nourish wholly, leaving your hair smooth and tangle free without weighing it down. Overall, this conditioner bar is for someone looking to up their haircare routine, go plastic-free, and, more importantly, use something with clean ingredients! Every use leaves your hair looking and feeling healthy by filling in damaged areas. You shall soon say hi to your vibrantly shiny, deeply moisturized hair. 

Our conditioner bar lasts a long time (40-45 washes). Our bar is also free of sulfates, parabens, silicones, phthalates, DEA, and palm oil. Of course, yes, it is vegan. Oh, wait, also plastic-free.

Ingredients
BTMS-50, cetyl alcohol, brassica alcohol, cocoa butter, coco caprylate, cationic guar gum, panthenol, rice protein, grapefruit essential oil, lavender essential oil, germall plus
Ingredient benefits
BTMS-50 - conditioning, emulsifying wax, mild

cetyl alcohol - hydrating, softening, acts as thickener

brassica alcohol - conditioning, softening, moisturizing

cocoa butter- antioxidant powerhouse, restores moisture, soothing, hydrating

coco caprylate - softening, improves hair manageability and shine

cationic guar gum - natural conditioner (derived from guar beans), nourishing, soothing

panthenol - strengthening, retains moisture, helps with textured damaged hair

rice protein - voluminizing agent, strengthening, shine-enhancing

germall plus - eco-preservative
How to use
Wet the bar thoroughly. Glide our solid conditioner bar through the hair and it instantly detangles and is smooth on the tresses. Now rinse away. This is not a leave-in conditioner.
Shelf life
18 months if kept in ideal conditions
Packaging
Tree-free, unbleached sugar cane labels. Brown paper.
End of life
The bar gets used up.
Label along with adhesive are compostable.
Brown paper is curbside recyclable.
Care
Keep the bar on a draining dish. Doing so will help prevent the bar from getting soft and gooey. Plus, a dry bar in between the washes will go longer too.
Perfect for my wavy hair
This conditioning bar hydrated my wavy hair instantly.