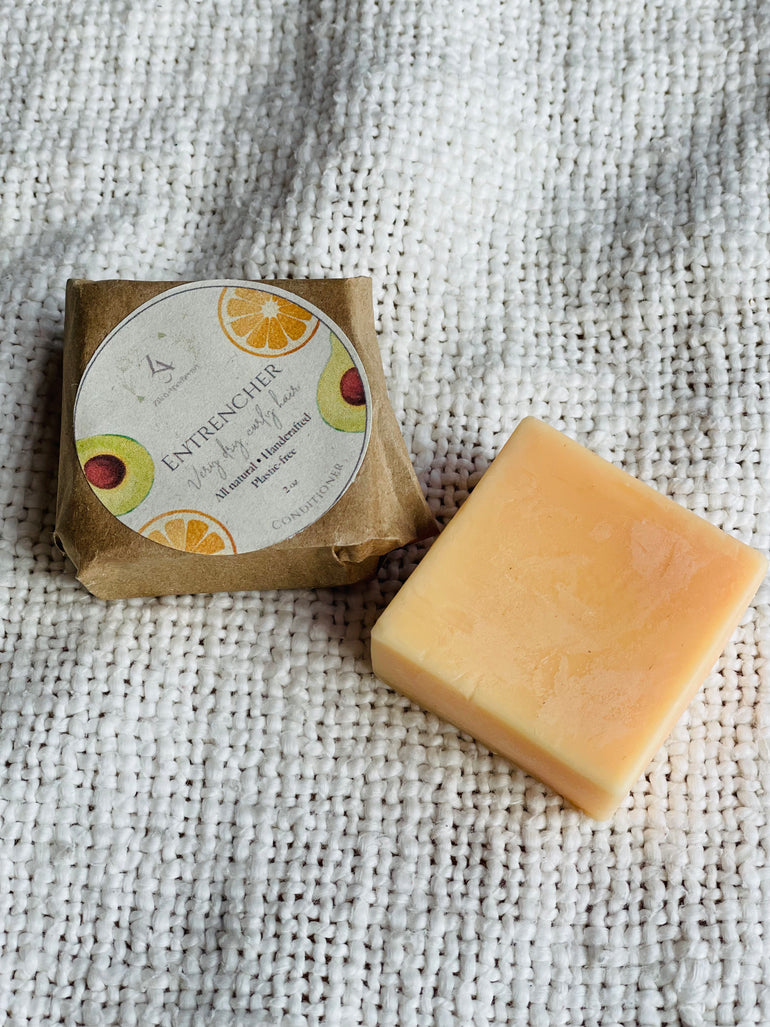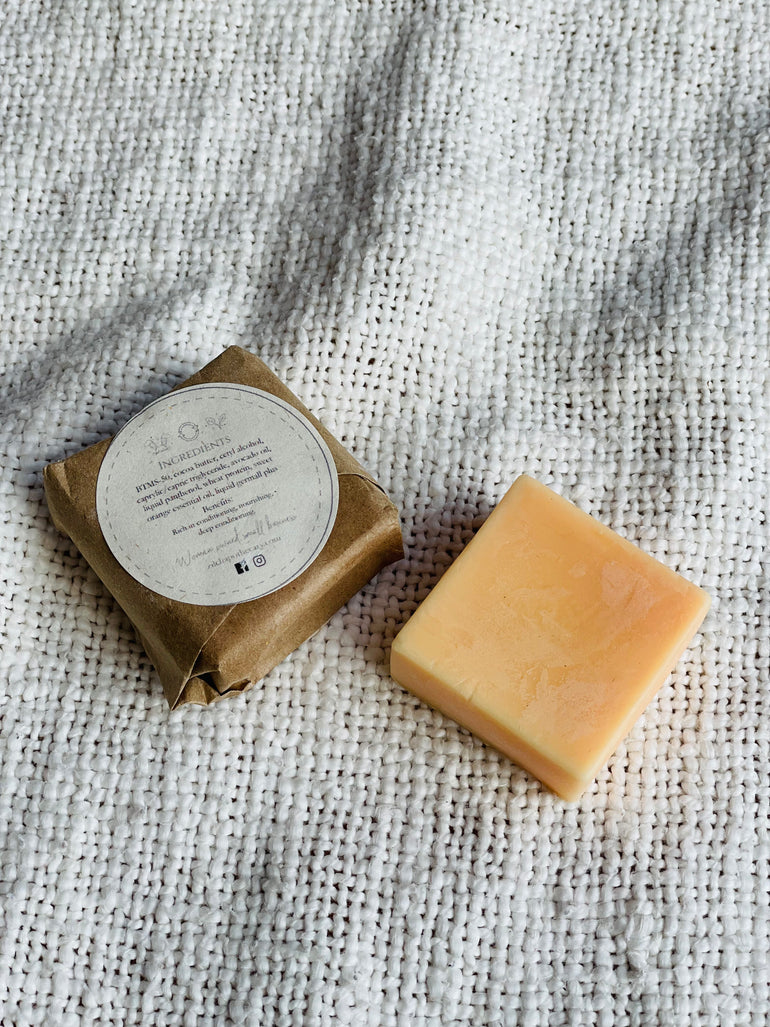 Description
This conditioner bar works wonders for dry and curly hair. The name of our conditioner defines itself as entrench means to establish firmly. This is formulated to be a deep, rich conditioner. The rich conditioning properties, complimented with a strengthening oil (avocado), set the standard for solid conditioners. The absolutely divine smell of sweet orange essential oil will make you crave more hair showers! Using this bar will leave your hair smooth and tangle-free without weighing it down. Overall, this conditioner bar is for someone looking to up their haircare routine, go plastic-free, and, more importantly, use something with clean ingredients! Every use leaves your hair looking and feeling healthy by filling in damaged areas. You shall soon say hi to your vibrantly shiny, deeply moisturized hair.

Our conditioner bar lasts a long time (40-45 washes). Our bar is also free of sulfates, parabens, silicones, phthalates, DEA, and palm oil. Of course, yes, it is vegan. Oh, wait, also plastic-free.
Ingredients
BTMS-50, cocoa butter, cetyl alcohol, caprylic/capric triglyceride, avocado oil, liquid panthenol, wheat protein, sweet orange essential oil, germall plus
Ingredient benefits
BTMS-50 - conditioning, emulsifying wax, mild

cocoa butter - antioxidant powerhouse, restores moisture, prevents aging, minimizes marks on the body

cetyl alcohol - hydrating, softening, acts as thickener

caprylic/capric triglyceride - prevents dryness, conditioning agent, emollient

avocado oil - high vitamin E, moisturizing, nourishing, promotes collagen production, healing

liquid panthenol - strengthening, retains moisture, helps with textured damaged hair

germall plus - eco-preservative
How to use
Wet the bar thoroughly. Glide our solid conditioner bar through the hair and it instantly detangles and is smooth on the tresses. Now rinse away. This is not a leave-in conditioner.
Shelf life
18 months if kept in ideal conditions
Packaging
Tree-free, unbleached sugar cane labels. Brown paper.
End of life
The bar gets used up.
Label along with adhesive are compostable.
Brown paper is curbside recyclable.
Care
Keep the bar on a draining dish. Doing so will help prevent the bar from getting soft and gooey. Plus, a dry bar in between the washes will go longer too.
My hair looks so soft and shiny!
I was so excited to receive the Balance Shampoo Bar and the Entrencher Conditioner Bar. My hair had started to look limp and was not styling well. As soon as I began to use the Balance Shampoo and Entrencher, I noticed an immediate difference. My hair is styling with just blow drying and looks so soft and shiny. I highly recommend Zilch Apothecary products!