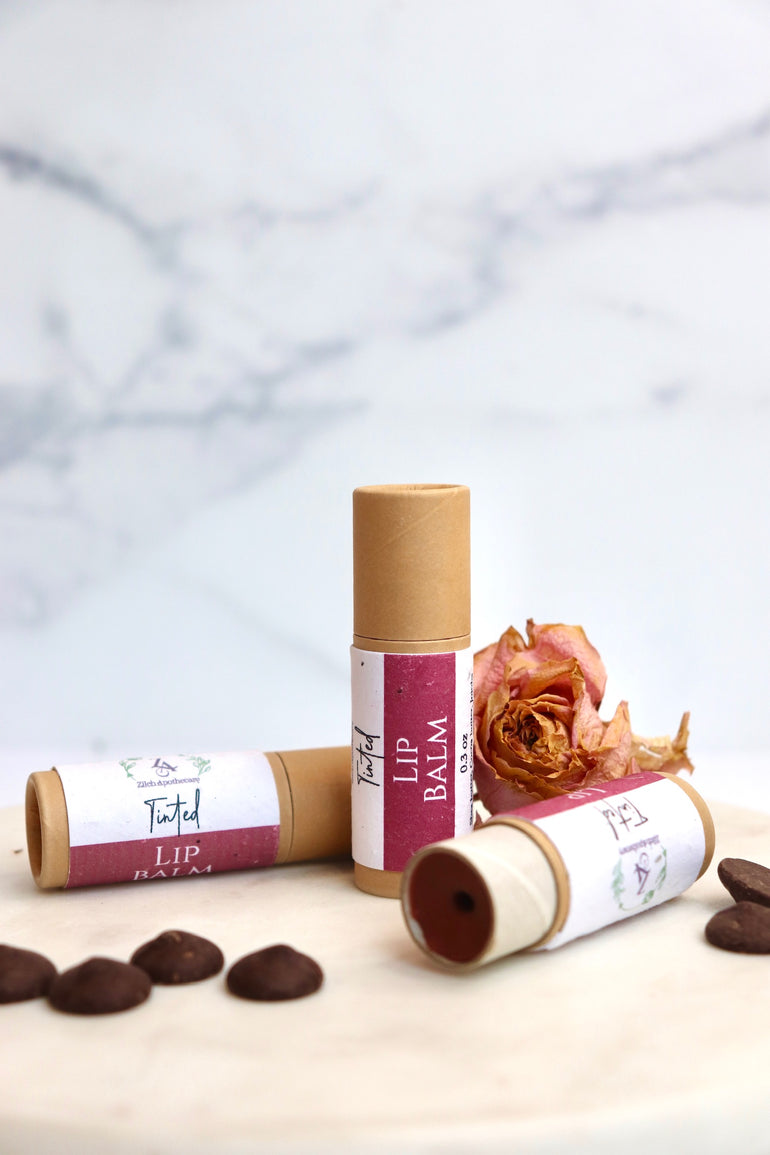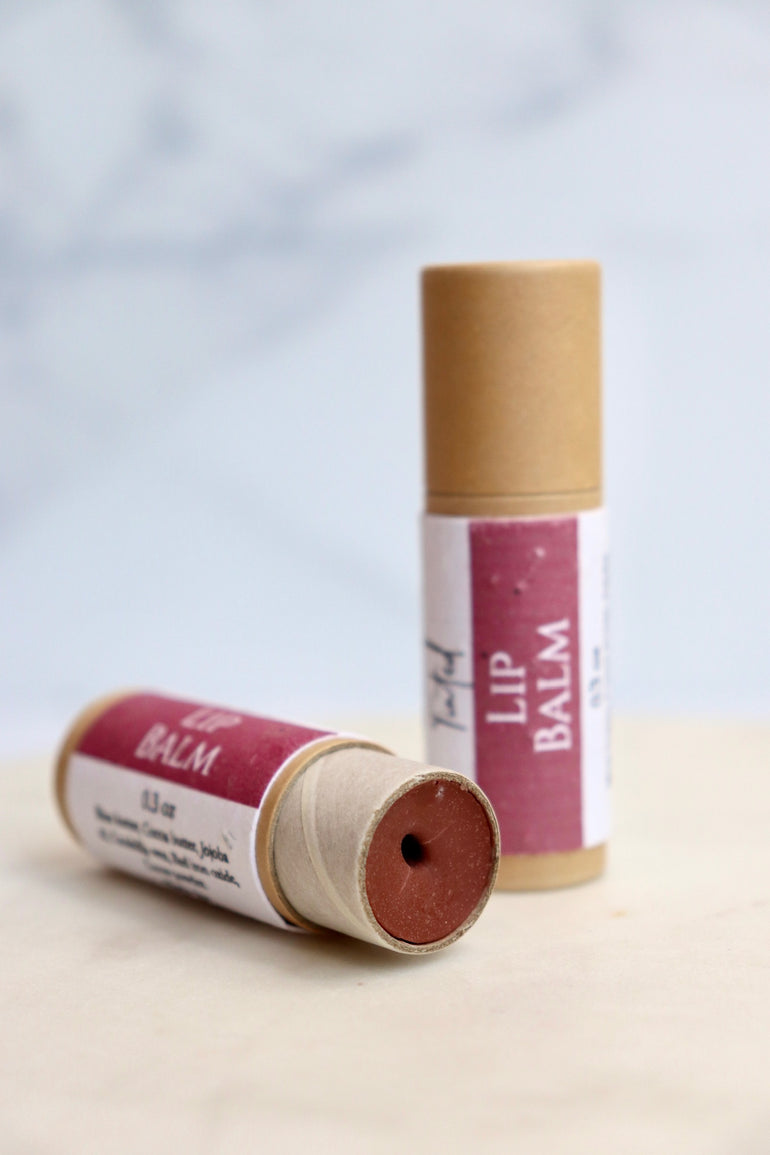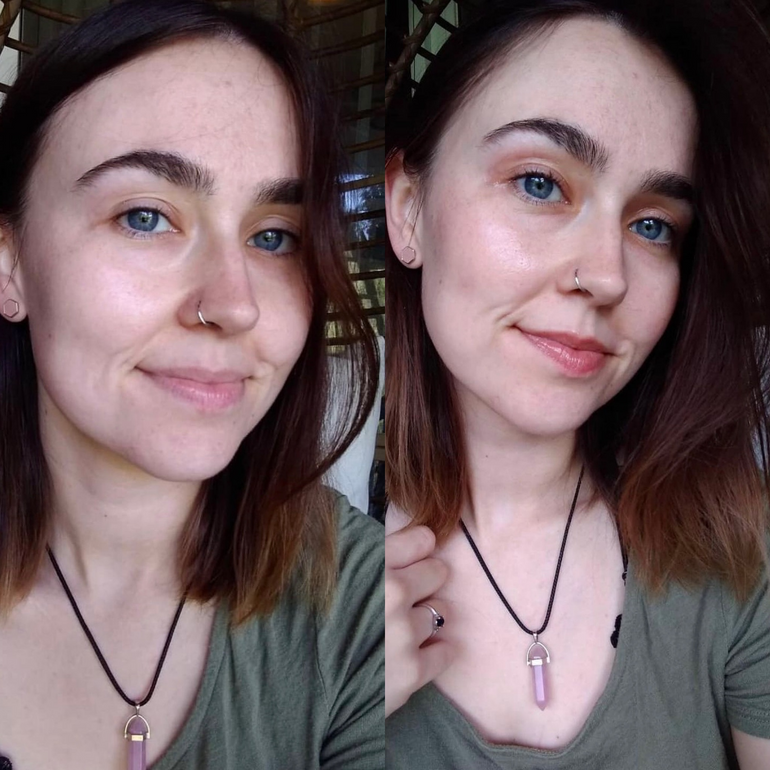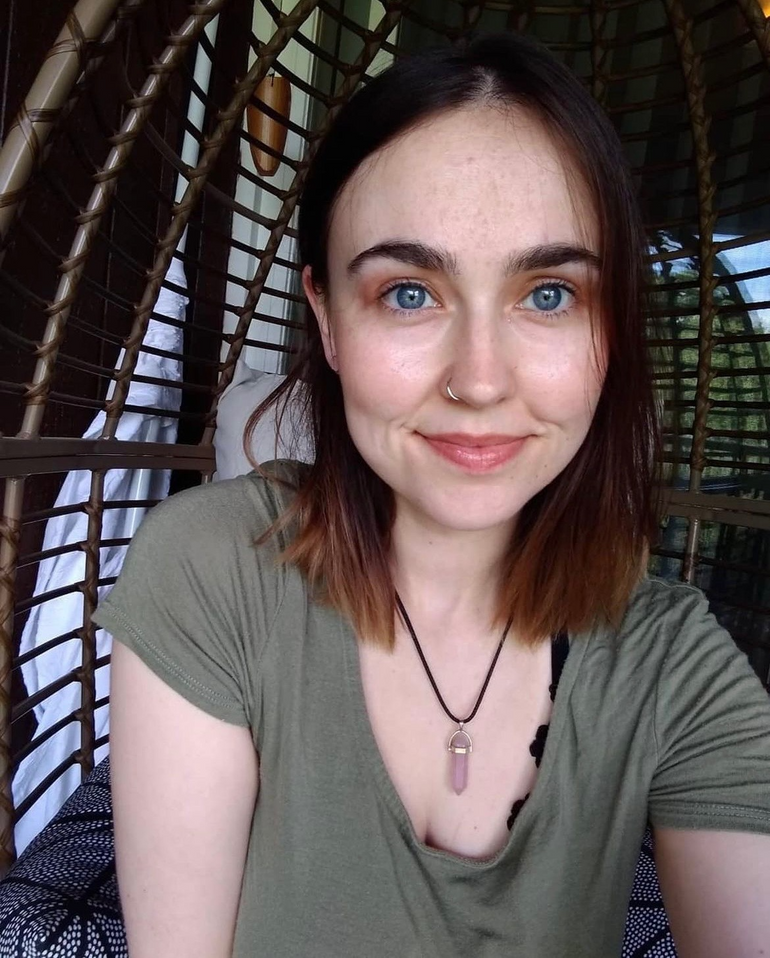 Description
Welcome to our vegan, compostable, plastic-free tinted lip balm! This balmie is handcrafted with clean and high-quality ingredients, so you feel confident you're using a safe product for yourself and the environment. And packaged inside a compostable cardboard tube. Our lip balms are formulated to be hydrating, long-lasting, and simple.

Our tinted lip balm is unscented but has a natural cocoa flavor. The balm gives you a minimalistic yet glam look. The tint is buildable from a light dewy hue to a rich shade with deeper intensity. Use it on your lips, cheeks, and lids. Now, don't we all love a multi-purpose balm?
Our lip balm is effective on chapped lips, non-greasy, and all-natural with a blend of nourishing ingredients. In addition, our tubes are bigger than the standard lip balm conventionally available. Adding to these, we also use plant-based wax called candelilla wax.

Unlike other lip balms on the market, our product is free from harmful chemicals, synthetic fragrances, and preservatives. Instead, we believe natural ingredients are the best way to care for your lips and keep them looking and feeling healthy.

Our lip balm comes in a convenient, travel-sized tube that you can easily slip into your purse, pocket, or backpack. Use it throughout the day to keep your lips soft, smooth, and protected from harsh elements.

Look no further if you're looking for a multi-purpose, all-natural, clean tinted balmie that works. Our product is the perfect choice for anyone who wants to care for their lips without compromising quality, sustainability, or safety. So try it today and see the difference for yourself!
P.S. - This product is handcrafted in small batches. Hence the color intensity might vary from batch to batch. But we always test every batch to give our best to you :)

Ingredients
Shea Butter, Coconut oil, Candelilla wax, Red Iron Oxide, Cocoa Powder, Jojoba Oil
Ingredient benefits
shea butter - moisturizing, reduces inflammation

cocoa butter - locks in moisture, anti-aging, protection from harmful rays

jojoba oil - cleansing, moisturizing, anti-inflammatory, works as a spot treatment

candelilla wax - reduces aging, smooth,, hydrates parched and scaly skin

red iron oxide - helps protect skin from visible light, a natural mineral used for tinting. Iron oxides come from the earth and may have traces of heavy metals, but are regulated by the FDA and are safe for cosmetic-use

cocoa powder - reduces the appearance of scars and wrinkles, detoxifying, helps with the color
How to use
Gently push up from the bottom of the tube, using your finger/pen/or something similar.
Be careful when you push up, as the lip balm doesn't have a piece that can help it go down. So remember to push it up gently. After you've used the balm, push again for more balm.
Shelf life
18 months if kept in ideal conditions
Packaging
cardboard tube
planatble label
End of life
Label is plantable.
Compost the tube in your backyard or city curbside bin!
Care
Extreme temperature changes can make the balm hard/soft. When it's hard, warm it up on your hand and apply it. When soft, toss it in the fridge for 10 min and it should be good to go.
I use the lip tint every day and it adds natural blush to your skin.
I was fascinated with ZA's soaps and shampoo bars. I got the rainbow soap and absolutely loved it. Later I wanted to carry a shampoo bar and a lip tint with me for a trip. Krithi delivered it to me herself since I was in a time crunch <3 I use the lip tint every day and it adds natural blush to your skin. The shampoo bar keeps the hair soft and I love that it doesn't contain any harsh chemicals. Look forward to getting more products. Thanks Krithi :)
I can feel good about my purchases knowing they won't harm the planet. _
I love these products so much. The lip tint is the right amount of tint and helps keep my lips hydrated. The peacekeeper smells so good and leaves my skin feeling soft.
What I love most about these products and Zilch apothecary is that they are eco friendly and sustainability focused. The products either come in sustainable packaging or just a seed paper label. I can feel good about my purchases knowing they won't harm the planet. _