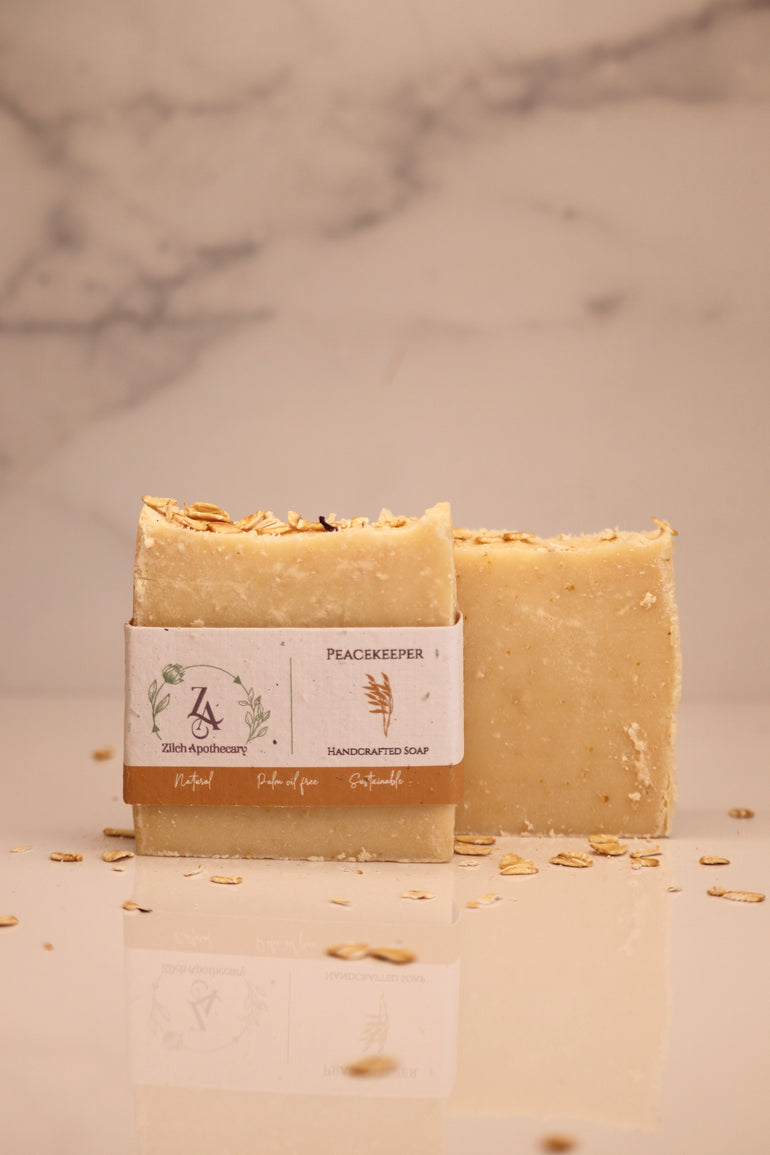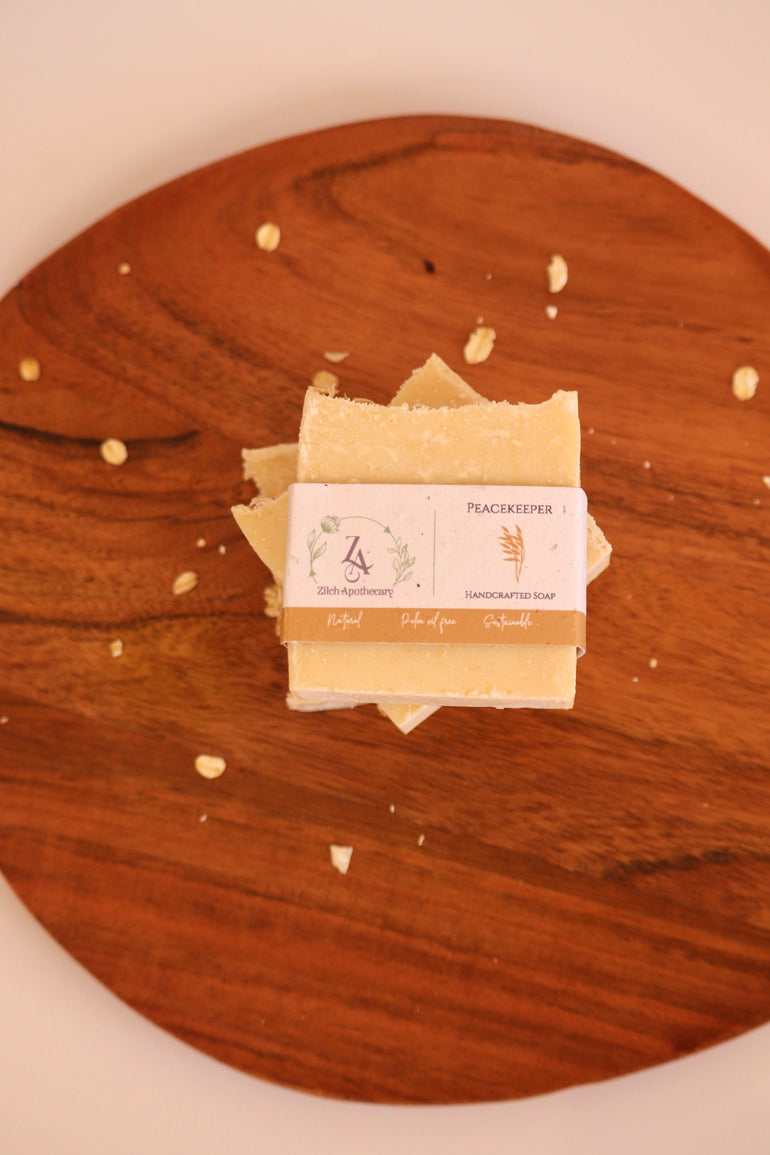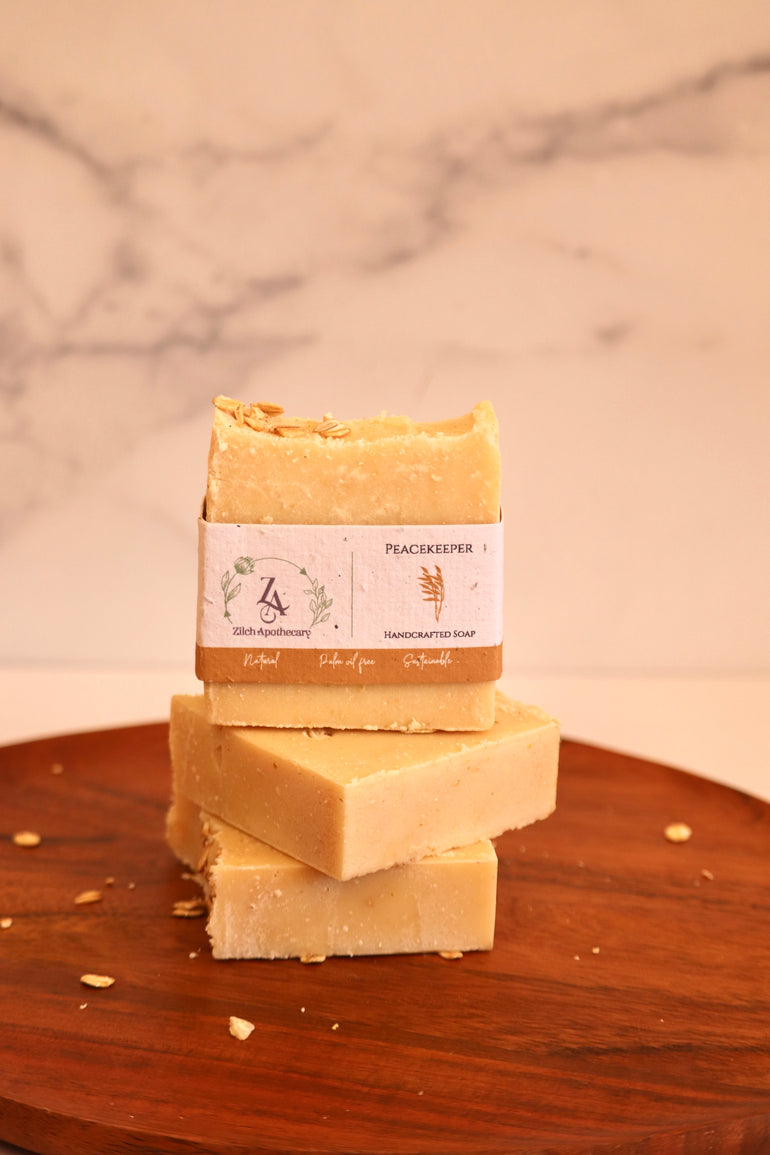 Description
A mild soap bar crafted with ground oats and nutrient-rich plant oils is popular for dry and sensitive skin types. Sweet almond oil is known to help with dehydrated skin and retain moisture. This soap bar is creamy and bubbly in texture. Not only do oats work as a natural cleanser, but they gently exfoliate dead skin cells. You would want to experience the sensuous freshness of frankincense intertwined with rich sandalwood and deep & characterful patchouli essential oils. This is a joyful scent that you wouldn't want to miss. Unexpected and addictive. 

Are you ready to make this soap a part of your bath routine?
Ingredients
100% Saponified Olive Oil, Coconut Oil, Sweet Almond Oil, Shea Butter, Cocoa Butter, Castor Oil, Ground Oats, Essential Oil Blend of Frankincense, Patchouli & Sandalwood
Ingredient benefits
olive oil - moisturizing, conditioning, antioxidant, and antibacterial effects, prevents premature signs of aging

coconut oil - moisturizing, anti-inflammatory, healing, antimicrobial, gentle on sensitive skin

sweet almond oil - treats dry skin, improves complexion and skin tone, emollient, balance the absorption of moisture

shea butter - emollient, softens skin, anti-inflammatory, conditioning, treats acne, healing

cocoa butter - antioxidant powerhouse, restores moisture, prevents aging, minimizes marks on the body

castor oil - fights acne, contains antioxidants, promotes overall skin health, moisturizing

ground oats - excess oil absorption, help treats acne, antioxidant, anti-inflammatory, treats dry skin, removes dead skin cells, natural cleanser
How to use
Wet it. Rub it. Rinse it.
Shelf life
24 months if kept in ideal conditions
End of life
The bar gets used up.

Label -
When you plant the paper in a pot of soil, the seeds grow, and the paper composts into beautiful wildflowers.
How to plant your label - Place your label under a thin layer of soil. Dab it a bit and water it. Keep it moist for germination. Now watch it grow!
Care
Keep the bar on a draining dish. Doing so will help prevent the bar from getting soft and gooey. Plus, a dry bar in between the washes will go longer too.
Works best for my dry, sensitive skin :)
Can I say I found my holy grail? Love how moisturizing this soap bar is. The scent is just perfectly mild. Love it. Love it 😍