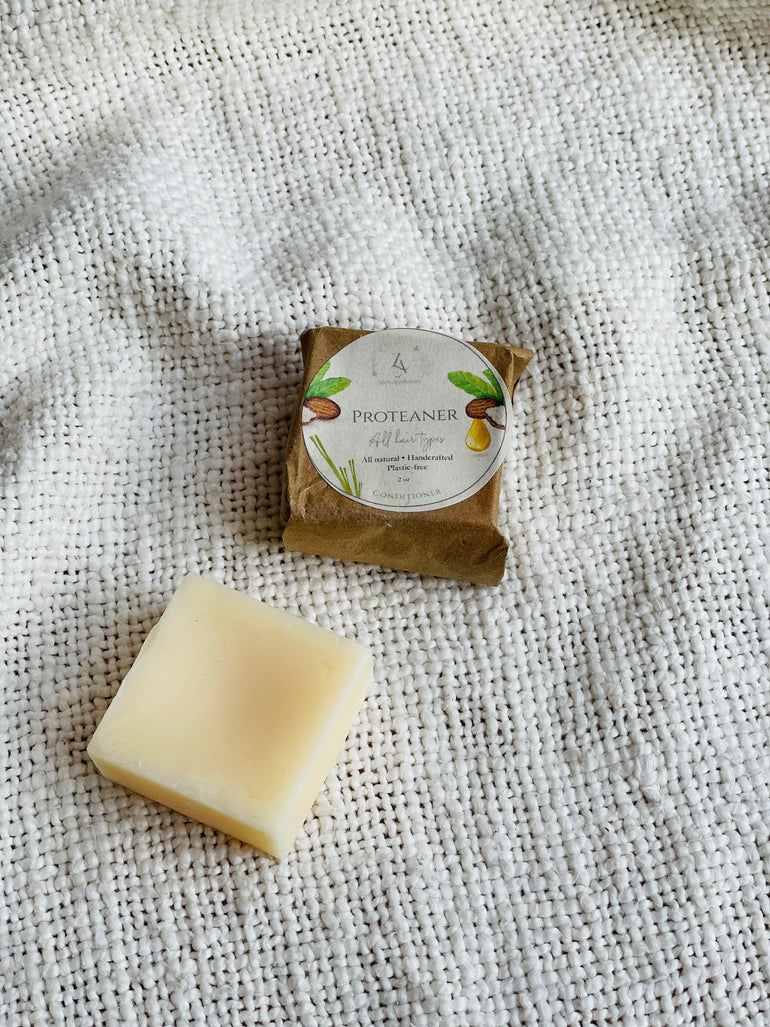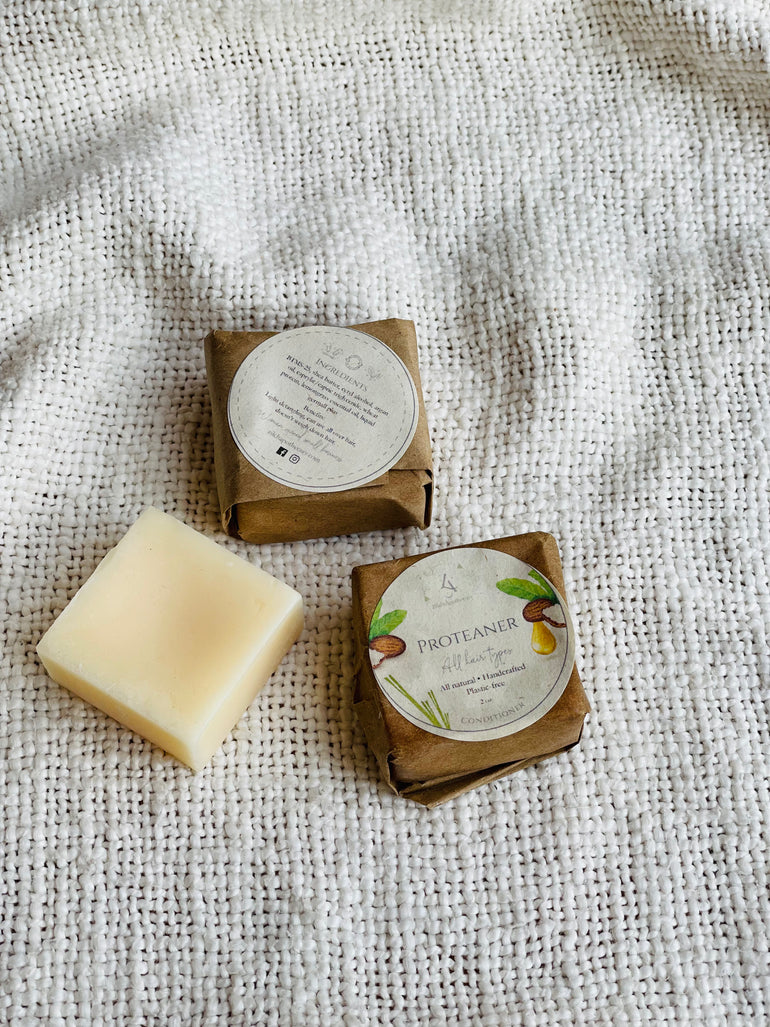 Description
A conditioner bar that is suitable for all hair types! A bar that glides on your hair smoothly, is light in texture, and doesn't weigh your hair down! This bar is nourishing, detangling, and works as an all-rounder! Are you wondering why did we name this bar such? "Protean" means versatile, and I thought, "how perfect." Our exceptional conditioning ingredients would be argan oil and shea butter. Wheat protein helps retain moisture and gives volume and shine to the hair. Lemongrass essential oil promotes hair growth and relieves any scalp irritation. The bar smells heavenly. Also, it works great as a beard conditioner. So watch out for some extra points there.
Add this to your cart today to experience what a clean conditioner bar can do to your hair. Shine bright like a proteaner. 
Our conditioner bar lasts a long time (40-45 washes). Our bar is also free of sulfates, parabens, silicones, phthalates, DEA, and palm oil. Of course, yes, it is vegan. Oh, wait, also plastic-free.
Ingredients
BTMS 25 (Behentrimonium Methosulfate), Shea butter, Cetyl alcohol, Argan oil, Caprylic/capric triglyceride, Wheat protein, Lemongrass essential oil, Liquid germall plus
Ingredient benefits
BTMS 25 - conditioning emulsifier, gentle on hair

shea butter - emollient, softens skin, anti-inflammatory, conditioning, treats acne, healing

cetyl alcohol - hydrating, softening, acts as thickener

argan oil - mositurizing, helps with acne, wound healing, prevents hair breakage

caprylic/capric triglyceride - prevents dryness, conditioning agent, emollient

wheat protein - retain moisture and volume, helps with shine and smoothness

liquid germall plus - eco-preservative
How to use
Wet the bar thoroughly. Glide our solid conditioner bar through the hair and it instantly detangles and is smooth on the tresses. Now rinse away. This is not a leave-in conditioner.
Shelf life
18 months if kept in ideal conditions
Packaging
Tree-free, unbleached sugar cane labels. Brown paper.
End of life
The bar gets used up.
Label along with adhesive are compostable.
Brown paper is curbside recyclable.
Care
Keep the bar on a draining dish. Doing so will help prevent the bar from getting soft and gooey. Plus, a dry bar in between the washes will go longer too.